Other than wondering what physical therapy can do for you, another common question people ask is: How much does it cost to go for physiotherapy in Singapore?
While going for physiotherapy in a public hospital is a more affordable option if you are paying out-of-pocket, private physiotherapy has its perks such as earlier appointment dates.
So if you are considering visiting a physiotherapy clinic in Singapore but are apprehensive due to doubts about the costs, this breakdown will help you to have a clearer idea. Keep reading to find out more.
Cost per session
Different physiotherapy clinics and physiotherapists charge different prices, but the average cost per session ranges between $170 to $300. The final price is usually dependent on the time spent on each patient, treatments administered during the session and where the treatment is taking place (in the clinic or your home).
Some physiotherapy clinics may offer attractive, low prices to appeal to patients while the actual treatment duration lasts for just 30 minutes out of a 60 minutes session, for example. Hence, it is important to understand that if it sounds too good to be true, it usually is the case.
Here at Edge Healthcare, our private physiotherapy consultations or follow-up treatments start from a reasonable $170 (exclusive of GST) per session as we strive to make our services affordable and accessible. Alternatively, you can choose to sign up for a package starting from $1600 (exclusive of GST) for more savings.
Learn more: Debunking 5 Common Myths About Physiotherapy
Claimable under insurance
If cost is a concern, you will be glad to know that physiotherapy is claimable under medical insurance in Singapore as long as it is covered in your policy!
Before you proceed to make an appointment, check with the physiotherapy clinic's staff to ensure your insurance is accepted at the clinic. Take note that some patients will have to consult a doctor and get a referral letter before seeing a physiotherapist for the claim to be accepted as well.
We do not claim directly on a patient's behalf at Edge Healthcare, but will be more than happy to provide you with a receipt which you can use to submit a claim with your insurance provider.
Why choose Edge Healthcare?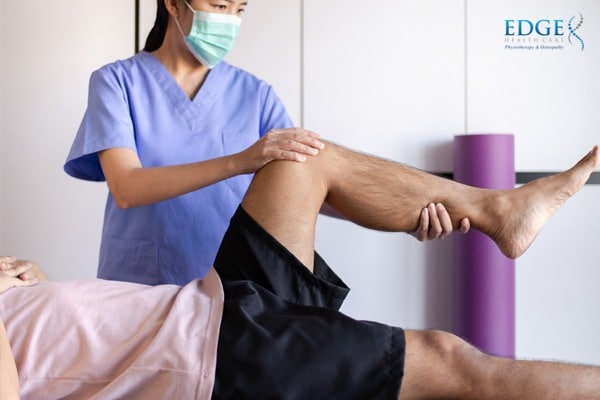 Physiotherapy clinics in the heart of the city

Our physiotherapy clinics in Singapore are located in the heart of the city, namely the CBD and Orchard area. Head down for a session after work or a day of shopping – our clinics and staff are always ready to serve.

Physiotherapists with a wealth of experience

Our highly trained physiotherapists have over 100 years of combined clinical experience and who have treated thousands of patients are certified by Singapore's Allied Health Professions Council and the Ministry of Health. We also pride ourselves on research-led and personalised care to ensure every single patient has peace of mind that they are in safe hands.

More than just physiotherapy

Apart from physiotherapy, we also offer a wide range of other services such as osteopathy, dry needling and visceral manipulation. If you require more than just physiotherapy, Edge Healthcare is the one-stop place for everything you need to regain your quality of life.
Get in touch with us to book an appointment today!