Cranial osteopathy is a drug-free and non-invasive manual therapy that shares the same underlying principles central to osteopathy. A trained osteopath will use palpatory skills along the head and spine to release tension, which helps with improving a variety of health issues like digestive problems and fatigue.
Learn more: What is Cranial Osteopathy & What Benefits Does It Bring?
While adults can benefit from cranial osteopathy, it has also become a popular alternative treatment method for infants and children who are experiencing common ailments such as colic and feeding issues.
If you are unsure about going for or sending your child to cranial osteopathy in Singapore, these frequently asked questions answered will give you greater peace of mind. Keep reading to find out more.
1. What does cranial osteopathy feel like?
Cranial osteopathy is a type of manual therapy that involves using the hands to diagnose and treat concerns. Although it sounds intimidating, it is actually a gentle and relaxing technique that is safe for adults and even babies. This painless treatment process is sometimes so gentle that patients report feeling little to no sensation, but experience a significant difference in tension and aches after that.
2. At what age can babies start going for cranial osteopathy?
There is no minimum age when it comes to seeing an osteopath. In fact, it is advisable to bring your baby to an osteopathy clinic in Singapore as soon as symptoms appear so that the condition does not worsen. Nonetheless, it is also never too late to send your baby to cranial osteopathy as it is better than not seeking treatment at all.
3. How many sessions of cranial osteopathy will I or my child need?
Most adults may require three to 10 cranial osteopathy sessions, depending on each individual's unique concerns and needs. Sometimes, maintenance sessions may be needed too.
On the other hand, babies react faster than adults and will usually require fewer sessions. Three to five sessions are the average, but this range could change depending on other factors like the symptoms your baby is experiencing and how he or she was delivered.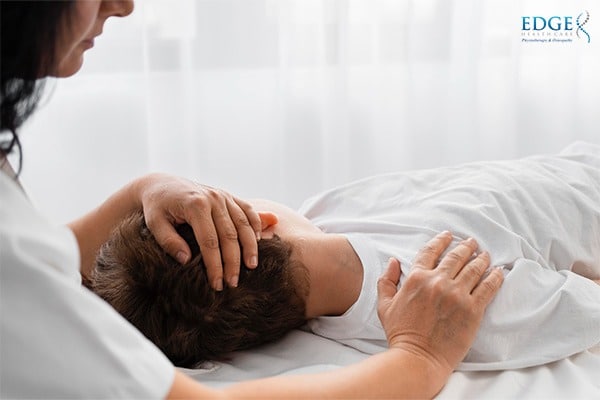 4. What is cranial osteopathy good for?
Cranial osteopathy treats a wide range of conditions in babies, such as colic, reflux, latching issues and torticollis. Its holistic approach does not just treat specific conditions, but also improves your baby's overall health for better sleep, appetite and growth.
Learn more: 4 Conditions in Babies That Cranial Osteopathy Treats
Although cranial osteopathy is widely established as a treatment to improve the well-being of babies and treat common conditions in children, it is still a practice that adults can benefit from. It treats and improves a host of problems like headaches, digestive issues, back pain and helps manage stress.
5. How much does cranial osteopathy cost in Singapore?
Here at Edge Healthcare in Singapore, the price of osteopathy sessions is kept transparent and starts from $170 plus GST for consultation or follow-up treatment. We also have osteopathy packages from $1500 plus GST that you may wish to consider signing up for if it makes sense for you.
Ultimately, the final price you will have to pay varies according to the number of sessions you or your child needs. We recommend speaking to our friendly clinic staff to find out more.
Cranial osteopathy at Edge Healthcare
Edge Healthcare has a team of osteopaths that has undergone extensive training to help patients achieve relief and a greater range of motion.